ENROLLMENT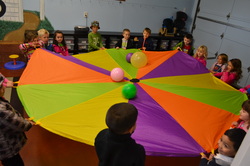 We are currently enrolling for our pre-k program for fall 2016. Call today for a tour.
A one-time non refundable registration fee of $100 will hold your child's spot for fall 2016. We look forward to meeting you and your children. Feel free to call or email with any questions at 253-970-7161 or raych912@aol.com!
For pictures or videos of our current programs please visit our Facebook page at
https://www.facebook.com/#!/raychlamb
---
PRESCHOOL CLASSES 2015-2016
~ 3 to 4 year old Class ~
Monday/Wednesday class from 9:30am-12pm or 9:45am-12:15pm
~ 4 to 5 year old pre-k Class 3-day and 4-day program ~
Tuesday/Thursday/Friday from 9am-12pm or 9:15am-12:15pm
Monday/Tuesday/Wednesday/Thursday
from 12:45-3:15pm or 1pm-3:30pm
*Please click on the more tab above for tuition rates and schedules for the new school year 2016-2017.
Summer Camps:
~ A Sports Activity Adventure~
July 25th - 29th 2016 (Monday-Friday) 9am -12pm
(Friday July 29th, we will be a fun family field day, with different stations. You will bring a sack lunch to have a picnic also. More info to come during camp week. We will al bring a sack lunch and blankets to have a picnic.) We provide snacks all week, t-shirt and a water bottle.
~An Adventure in Camping~
August 1st -5th 2016 (Mon-Fri) 9am-12pm and 1pm-4pm
(Friday 8/5 @ 6:30pm to Saturday 8/6 @ 10am will be a family camp-out in the

preschools back yard with a potluck dinner, campfire, smores and a movie. Bring your chairs, tent and bedding for a great camp-out.) We provide snacks all week and a t-shirt and water bottle. ***Enrollment for summer classes starts June 2016. Call to reserve your spot***